Yuck Boys – How To Train Your Boy 107 – Sharing Is Caring (Phase 1)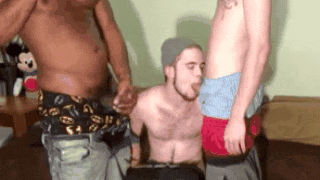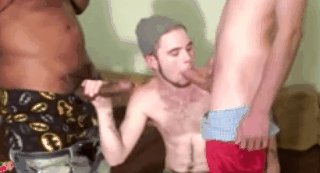 Blaze Has Been Around Me For Almost A Year. He Started Out Helping Me Film With Molly And Summer (Two Of The Yuck Girls Chicks). It Wasn't Too Long Before He Caught On To What I Was Doing With Yuck Boys  (Which Has Become Increasingly Hard To Hide BTW) But All I Can Say Is That He's Been "Helping" Us Eversince :)  Now Huey Joined Up With Us A Few Months After Blaze First Got His Dick Sucked By A Dude. Huey Had Never Had His Mouth Or Butt Hole On Any Other Pipe Before Besides Mine. Now Don't Get Me Wrong, Even Though There's No Hanky Panky Going On With Me Or Any Of The Other Guys Off Cam, I Still Feel Some Type Of Way When Another Dude Is Pipin' Down A Bitch That I Claimed For The First Time. When He's A Virgin You Simply Own It! Lucky For Blaze We're Cool Like That. He's Proven Himself No Doubt To Be Ride Or Die And A Down Ass Homey.  So I Let It Ride. Besides, The Fact That He'd Told Me He Didn't Want To Do Any "Gay Stuff" For A While. Said He'd Be Down To Do Yuck Girls Shows But Wanted To "Take A Break" From The Dude Bangin'. I Had To Do Something. It Was Clear That Blaze Was Losing Confidence In His Ability To Cross The Threshold Into Man To Man Sex. It's Not Like He Ever Pretended To Be Straight. When I Met Him He Was With Two Females. Hell, I Even Video Taped Him And Myself A Few Times With Girls We'd Met At The Bar Just Clownin. Or Him Bangin Bitches Out On Our Live Cam Shows .. Blaze Is The Real Deal... Definately Legit.... What To Do?
Poker Night! Invited Blaze Over To Play Poker. Had Huey Over That Night Doing Some Studio Work So Told Blaze It'd Be A Tournament With A Friend And I. We Played Poker For A Bit. Blaze Started Out Okay, But Before Long Was Down About 3x What He Initially Wagered. What To Do What To Do?. . . . .? I Made A Proposal. . . I Told Blaze That Instead Of Paying Me His Pot, He Should Jump On Yuck Boys' Cam Solo For A Bit. The Plan Was For Me To Get Him To Start Jerkin Off, Then Provide Some Alternative For Him To Finish "In".   "No One Will Think Anything Gay About You If You're Alone Dude"  I Told Him. He Just Said "Fuck It" And Turned The Lap Top On.
Blaze Sat There For About 15mins Rubbing His Dick Through His Boxers. Huey And Myself Moderated The Chat Room For A Bit. I Wasn't Particularly Interested In Seeing Blaze Play With His Cock, But I Could See A Glint In Huey's Eyes While He Watched And Tried To Focus On The Screen. His Mouth Was Probably Already Watering And Ass Tingling. He Was Probably Hoping I'd Use Him As A Tool This Night. A Vessel To Tempt Blaze Back Into Man Fucking. If That Was The Case, Then He Was Absolutely Right! I Casually Walked Onto The Set While Blaze Was Kickin' It With The Live Cam Audience. Was So Ironic How All This Was Going Down But I Just Kept Rollin' With It.  Pretended Like I Was Talking To The Audience. Didn't Have My Dick Out Or Anything Just My Shirt Off And Kinda Saggin' ..... Aptly Dressed So-To-Speak So I Didn't Kill Blazes Vibe. When I Walked In He Just Glanced At My Crotch Area For A Bit (Possible Interest????!!!?! . . . Nahhh He's A Top. "I Don't Bottom" . .. . He's Expressed That Repeatedly) Now For The Record, I Have NEVER Fucked Blaze Nor Has He Sucked My Dick. There Have Been Some Things Though That Have Had Me Intrigued About Trying Him Though I Will Be Honest... . . . . Not To Get Off Track . . .. . So, On The Set. Blaze Was Already Pretty Warmed Up. So I Just Started Jackin' My Dick Through My Boxers Too. Kinda Matchin' His Flow I Guess. So Far So Good. . . He's Still Sittin' There On The Couch. So I Initiate Phase 2 Of The Plan. . . . .
I Texted Huey. . . . Told Him To Walk In And Sit On The Couch Next To Blaze. . . . Not Exactly Sure How Blaze Would React But I Went For It Anyways. Of Course He Was No Longer A Rookie To Dickin' Boys Down. But What About Huey? He'd Only Not Too Long Ago Taken His First Dick. How Would He React To Another Man Ravaging His Insides? An Intruder. . . An Invader. . . .  Let In By The Man That Has Truly Become His Master. .. . He Obeyed. Walked Right In And Sat On The Couch Midway Between Where I Was Standing And Where Blaze Was Sitting On The Couch Still Jacking His Meat. I'd Laid The Foundation. Completely Unaware Of What Would Transgress Over The Next Few Moments. . . . This Video Is The Documentation Of Those Events. It's Being Released In Several Phases Two This Week And The Ending Next Week. I Decided To Add Include It Into The "How To Train Your Boy" Series Because It Expresses A Point. If I Can Get Over My Posessive Demeanor, Then You Can Too! Heh! :P Dont Hesitate To Leave Feedback Fellaz. . . I'm Sleepy, I'll Fix Any Mistakes In The Mornin Just Had To Share This :P - The Freak King-+
-