Yuck Boys – Street Trash – Glazed (Sneaker)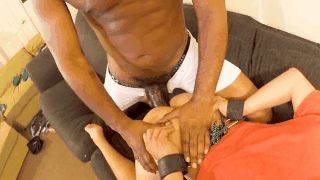 After Blaze Got His Dick Sucked For The First Time By A Dude, (See Hole Hunter - Spear Fishin') I Wanted To Test Just How Far He Would Go.  He Had Never Done A Live Show Before So I Told Him That A Lot Of Bitches Would Probably Be On Watching That Night And He Could Make Some Tips If He Showed Off A Little Bit. The Camera Wasn't On For 10mins Before Marky Showed Up "Unexpectedly". Hey, I Figured Since Marky Had Already Tried To Swallow Blaze's Dick (Gagging On Semen Albeit), Who Better To Use As A Specimen For My Test.
Marky Came In And Instantly Gets Naked Once He Sees The Camera Show Is Rolling. He Laid On The Couch And Blaze And Myself Figured We'd Play A Little Game And Tie Marky Up. After Clowning Around And Punking Marky Out A Bit, We Decided To Lay Some Pipe.  I Decided To Show Blaze The Path LoL. I Pulled My Dick Out Fast And Started Sliding In Marky. Opening Him Up. Trying To Make It Look Fun For My Almost Converted Straight Friend. I Eventually Said Fuck It And Offered Marky's Ass To Blaze. Told Him To Just Stick The Head In "For The Show" . To My Surprise, Blaze Didnt Hesitate As Much As I Thought He Would And Climbed Up On Top Of Marky's Back To Mount.
We Both Took Turns On Marky But I Swear While I Watched Blaze Take A Dude's Ass For The First Time I Got So Horny That I Busted All Over Markys Ass. I Watched Blaze Continue To Fuck Him. It Even Seemed Like He Would Sneakily Lube His Dick Up With My Nutt Almost As If It Turned Him On To Fuck It Inside Marky's Guts. Definately A Hot Scene. I'm Not Sure If I Was Turned On More By The Fact That Marky Was Tied Up Letting Me And My Homey Do Whatever We Wanted To Him (Who Also Has A Girlfriend Btw) Which Was A Definite First, Or By That Sense Of Accomplishment From Getting Blaze To Take His First Piece Of Dude Ass. 
Click The Images Below To See The Full Video